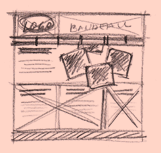 Custom design with a professional CMS at reasonable rates (free quote):
You can get any custom website design you want. We are working with the most popular open source Content management systems (CMS) like Joomla!, Wordpress or Grav. They are installed on the server according to the best practices for speed and protected against bad bots by a firewall. Updating your content is easy and fast. We can also work with static HTML pages, Javascript or with your preferred platform.
The layout of your website does automatically adapt to the screen of a PC/Mac, tablet or smartphone (responsive web design). The HTML 5 code follows W3C guidelines and is tested with audit tools like Google Lighthouse.
Our professional graphic designer may create custom designs, but we also use commercial templates like Gantry, T3, Warp, Helix3 or Photoshop files sent by your communication agency. We convert any custom design on your CMS template of choice.
Your website is developed in a high-end Cloud server and we keep an eye on the debugging tools everywhere. You can check how the work is progressing thanks to different validation steps (backlog, wireframe, graphic proposal, tests on staging server, etc). Your website is hosted on efficient and environmentally friendly servers in Geneva (Switzerland) or in France.

Full-size slideshows or Pinterest's style wall of pictures, we build your website according to your wishes. We understand what we are doing. We are programming our own extensions and not only installing plugins built by others. You can talk to the developer or the graphic designer, if you are looking for advice. Your website is expanding as your company grows: multilingual pages, blog, shopping cart, web marketing landing pages, etc. Whatever we are doing, we'll make certain that the CMS shall be easily updated in the future.
The website is optimized for search engines (SEO) and is monitored by Google Search Console. You can measure its performances by looking at a gorgeous dashboard designed with Google Data Studio.
You are updating your website yourself or we are doing the maintenance: it's up to you. You are totally autonomous from your supplier, because we are using open source software. We offer training with Skype, if you need to improve your digital skills. We are used to working with SME, therefore we have affordable rates, because we understand your budgets are not unlimited.
More information
 Technical sheet in PDF (french only).
 Contact us for a free quote.