Experience and passion for online communication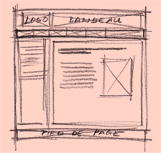 Ideally located in Geneva (french or english speaker), I can meet the needs of SMEs, NGOs, international organizations or individuals who want to create their website, update it or increase their visibility online. My rates are affordable and I work with pleasure for communication agencies as project manager, webmaster, developer or trainer.
I designed and promoted more than 80 professional websites, blogs, forums, CMS (Joomla, Wordpress), web applications in PHP (Codeigniter) or web stores. I have been working for 14 years in a communication agency and more than 7 years as a freelance including 12 years as an internet marketer for the medical and health sectors. I am training students in webmarketing and using the CMS Joomla for Soprotec. They learn how to design a website, develop an internet strategy and monitor information/brands online. A complete list of my references is available upon request.
Philosophy
The sites I build are not stacks of prefabricated plugins as many others do, but balanced solutions between functionality, security and performance by someone with years of experience in PHP programming for CMS and used to follow thoroughly their guidelines.
A network of professionals and freelance workers
My experience in the 'classic' communication sector allows me to use a network of professionals with whom I work regularly: graphic artists — logo design, visual identity, brochures, flyers, advertisements — photographers, 3D designers, copy writers, translators, designers or printers based in Switzerland.
Testimonials
Encore merci pour votre travail impeccable. Je saurai vous recommander pour tout travail Web - Pharmacie du Grand-Lancy - www.pharmacie-grandlancy.ch
Christophe Lance has helped The Language House to build its profile on the web. He has instigated many positive changes in that never-ending and complicated process of website optimization. It's the first time in more than 15 years I have been comfortable with a partner in this field. Like us, he is passionate about his work - The Language House Sàrl - www.tlh.ch.
More information